Montane Columbia 2 Section
US$626.85
The Montane Columbia 2 Section table from Chattanooga comes with 4 wheels. It also has hiqh quality upholstery and foam padding, silent operation, reliability and attention to ergonomic detail.
SKU: CH-35951XX
The fixed height Montane Columbia 2 Section is available with 4 wheels. It is a great deal for a buyer looking for the essential features she needs to ensure quality care for patients.
You can buy the table with navy blue, black or graphite grey upholstery. The upholstery is bio-compatible, fire resistant scratch and water resistant.
Key Features
Two foam layers –  a semi hard bottom foam and a soft foam top pad. This provides appropriate resistance for the therapist during treatment sessions while maximizing patient comfort;
The table has adjustable foot plates on all feet that ensure stability even on  nonlevel surfaces;
You can buy the table with an optional paper roll holder;
Other options include a Kaltenborn wedge, stabilization belt, traction supports and several wedges and bolsters that permit you to provide a full range of therapies;
This table can be disassembled for shipping, and then reassembled at its destination point. This reduces freight costs. You can also ship it stacked on top of or below other tables. This helps to further reduce transit costs.
Articulations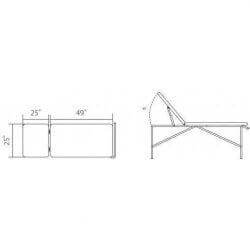 The Montane Columbia 2 has a back rest section that you can raise up to 45º from a horizontal position. It also has a fixed middle section. The table has a lifting capacity of 330 lbs and so can accommodate almost all patients except the obese.
Montane Columbia 2 Section- Technical Specifications
Weight: 242 lbs plus 66 lbs pallet when shipping
Dimensions: 79″ x 27″ x19″-40″ (LxWxH)
Shipping dimensions: 86″ x 35″ x 30″
Lifting capacity: 330 lbs
Safety Tests: Meets Directive 93 / 42 /EEC, Certified to CAN/CSA Standard C22.2 No. 601.1-M90x/A2
Please
login
to post questions