The Montane Tatras 2 Section treatment table from Chattanooga is supplied either with 2 wheels and 2 legs or with 4 wheels. The table is available in 3 upholstery colors – black, navy blue and graphite grey. The upholstery is bio-compatible, fire resistant and both scratch and water resistant
The table has a semi hard bottom foam pad and a soft top pad. This combination offers enough resistance for the therapist to provide effective treatment while optimizing patient comfort.
Key Features
The table is equipped with a nose slot with filler plug in its head section. These make for optimal patient comfort if and when he or she need to lie face down;
Chattanooga's proprietary Hallotronic system includes a magnetic switch to adjusts table height, a foot switch reachable from any position around the table and a control lever to allow smooth foot switch movement;
The table is extremely quiet in operation;
Height range is between 19″ and 40″. This simplifies patient transfer and provides for therapist convenience;
There is minimal lateral movement when you are lifting the patient, courtesy of  the articulated boomerang HI/LO design;
Gas springs facilitate smooth table movement and/or height adjustment;
The tables with 4 wheels have 4 multi directional castors and 1 central brake and lift system.  These facilitate engagement/disengagement and moving the table around;
Adjustable foot plate on each foot to ensure stability on uneven surfaces,
A unique integrated electronic height control switch equipped with a magnetic locking system. There is also a special safety system activated by electrical short or actuator damage.
Articulations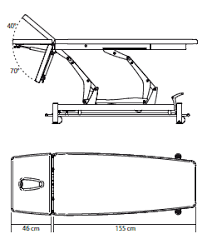 The Montane Tatras 2 Section Table comes with a head section that can decline 70º below the horizontal or incline 40º above it.
Montane Tatras 2 Section Table – Technical Specifications
Mains Power: 120 V/60 Hz
Standby consumption: 3.5 W
Input: 120 V/1.9 A/ 60 Hz
Weight: 242 lbs plus 66 lbs pallet when shipping
Dimensions: 79″ x 27″ x19″-40″ (LxWxH)
Shipping dimensions: 86″ x 35″ x 30″
Lifting capacity: 330 lbs
Electrical Safety Class: Class II, Type B
Safety Tests: Meets Directive 93 / 42 /EEC, Certified to CAN/CSA Standard C22.2 No. 601.1-M90x/A2