AFTR
C$62.94
Product Attributes
| | |
| --- | --- |
| Colour | Black |
| Sterile/Non Sterile? | Non-Sterile |
| Left or Right? | Both |
| Composition | Ultima 2sL |
| Latex Free? | Yes |
The Bio Skin AFTR compresses and stabilizes your ankle following sprains, other injuries or foot/ankle surgeries.
The Bio Skin AFTR supports and stabilizes your ankle to help treat a wide range of injuries. It also provides pain relief after you have experienced an ankle sprain. Additionally, it provides the unique combination of stabilization and high level compression which has made Bio Skin materials famous. It comes with both lateral and medial plastic stays and figure-8 stirrup straps to restrict hindfoot and ankle movement. This helps the joint to rest and thus promotes faster healing. For more effective healing, the AFTR will contour closely to your skin despite the volume changes that you can experience after an injury or surgery.
The AFTR is made from Bio Skin's Ultima 2SL™ with its micro fleece lining. Ultima 2SL has a  hook & loop compatible surface that provides extra flexibility in terms of compression,  anchoring and closures.  Ultima 2SL™ provides a high comfort level due to its  hypoallergenicity and complete freedom from latex and neoprene. These properties eliminate any risk of adverse skin reactions.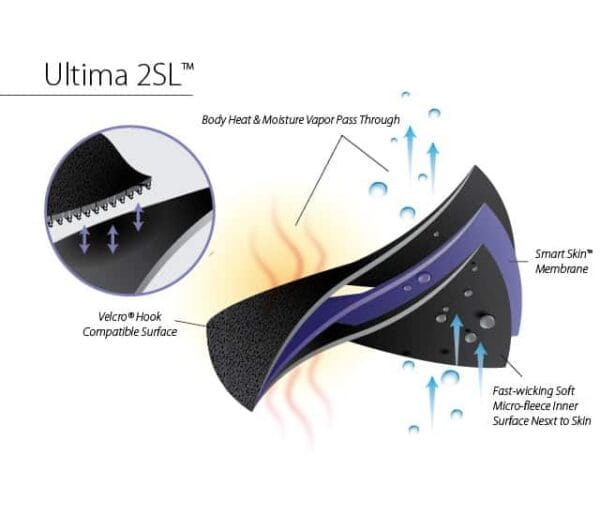 The Bio Skin AFTR ankle brace comes with the SkinLok™ feature. SkinLok improves the AFTR's adherence to your skin as a reaction to moisture from water, sweat and even lotion. This improves stability and keeps the AFTR in its correct position, improving the therapeutic outcome.
The AFTR offers ease of application and is also trimmable for a customized fit. It is a great choice for patients with injured ankles but who have less swelling than normal.
Bio Skin AFTR – Indications
Peroneal / Post-Tib Tendon Repair;
Lateral Ankle Repair;
Fusions: Midfoot, Hindfoot or Ankle;
Total Ankle Replacement;
Ankle Sprains;
The AFTR is also a great choice for bunionectomy, forefoot procedures and hindfoot arthritis.
It is also a great ankle brace to wear for a basketball ankle injury or an ankle injury from soccer.
Please
login
to post questions