TriLok Ankle Brace
US$64.99 – US$65.00
Product Attributes
| | |
| --- | --- |
| Colour | Black |
| Sterile/Non Sterile? | Non-Sterile |
| Left or Right? | Both |
| Composition | Ultima 2sL |
| Latex Free? | Yes |
The versatile Bio Skin TriLok delivers precision unloading to both medial and lateral structures. Its FootLok™ Strap supports and protects the lateral ligaments, the peroneal tendons, the plantar fascia or the posterior tibial tendon. You can wear the TriLok with almost any type of footwear or even barefoot if you prefer.
The Bio Skin TriLok ankle brace represents a straightforward and effective ankle orthosis that helps to reduce pain and discomfort from posterior tibial tendon dysfunction(PTTD) as well as plantar fasciitis. In addition to pain reduction, the Trilok can serve as a prophylactic support and provide protection against ankle sprains.
The Trilok has many significant features. Probably the most important feature its innovative FootLok strap for supporting weak or damaged tendons and soft foot tissues. The FootLok has dual roles. First, if you position it on the lateral (outside) side of the foot, it will help support and protect the peroneal tendons and lateral ligaments. Alternatively, you can position it on the medial (inner) side of the  foot. In this position, it will provide support to the PTT (posterior tibial tendon) or the plantar fascia.
Moreover, the Trilok features two independently positioned straps that stabilize the hindfoot and the midfoot.
In addition, the Bio Skin TriLok has a low profile and this permits you to wear it with any footwear you choose or even barefoot if you prefer.
Ultima 2SL material
Cropper Medical have chosen to make the Bio Skin TriLok using it Ultima 2SL™ material with micro fleeced lining. Ultima 2SL has a  hook and loop compatible surface that  offers flexibility when choosing compression levels as well as anchoring and closing options. In common with other Bio Skin materials, Ultima 2SL™ is designed for superior comfort. It is hypo allergenic and completely free of latex and neoprene. As a result, there is no risk of allergies or other adverse skin reactions.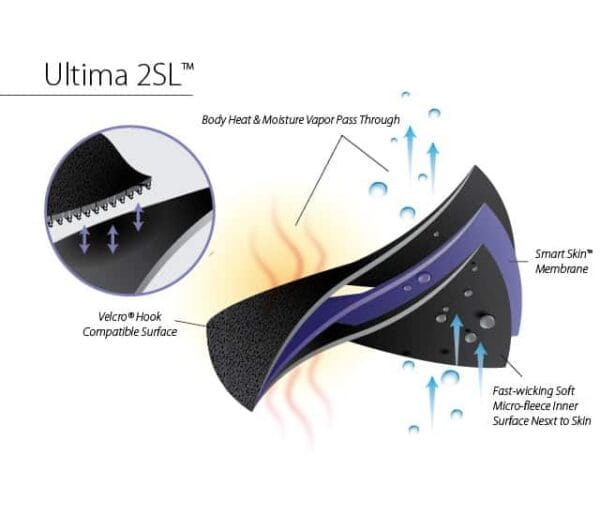 The Bio Skin TriLok ankle brace also comes with Cropper Medical's  innovative SkinLok™ feature. SkinLok  increases the Trilok's adherence to your skin as a reaction to moisture from perspiration, water or even lotion. As a result, the Trilok will remain in its original position even during vigorous physical activity.
Bio Skin TriLok – Conditions and Indications
The Trilok is a great choice for :
Ankle Sprains;
Posterior Tibial Tendon Dysfunction (PTTD);
Plantar Fasciitis;
Peroneal Tendon Injuries; and
Subtalar and Ankle Arthritis.
Finally, the Trilok is a universal left/right design and comes in sizes X-Small to XX-Large. Please consult the sizing tab on this page for help choosing your correct size.
In summary, the Bio Skin Trilok is a great choice for preventing ankle injuries in sports like basketball or baseball that place significant stress on that joint.
Please
login
to post questions