Hinged Knee Skin
US$109.61
Product Attributes
| | |
| --- | --- |
| Colour | Black |
| Left or Right? | Both |
| Sterile/Non Sterile? | Non-Sterile |
| Composition | Ultima |
| Latex Free? | Yes |
The Bio Skin Hinged Knee Skin uses offset, bi-centric aluminium hinges to conform to the contours of differing leg shapes and provide extra knee support.
The new Bio Skin Hinged Knee Skin features bi-centric hinges that are made from lightweight aluminium and provide additional knee support to counter instability. Another standout feature of this knee brace is its extremely thin profile, with uprights that are only 1.5mm thick.
The Hinged Knee Skin utilizes Bio Skin's original and patented tri-laminate Ultima material. Ultima is amazingly thin and has inner and outer surfaces made from Lycra, a design choice that provides high level compression for superior pain reduction and healing. The middle layer is a thin polyurethane film. This film permits perspiration to migrate through the brace and evaporate on the outside.  This facilitates the body's ability to naturally regulate its own temperature and keep cool even during vigorous physical activity. Ultima is 100%  hypoallergenic and completely free of latex and neoprene.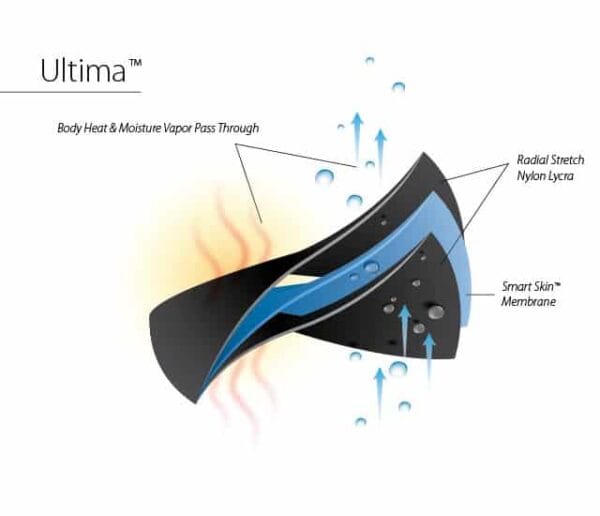 The effectiveness of the Hinged Knee Skin is further improved by its use of Cropper Medical's innovative SkinLok™ feature. SkinLok causes the brace to react to moisture from water, sweat or lotion by adhering more securely to the skin, thus reducing migration.  The brace will remain in its intended position through vigorous physical activities. As a result, it will be all the more effective in pain reduction and healing.
Another useful feature of the Hinged Knee Skin is its use of finger loops to simplify its own application (putting on). This is a valuable feature for those with compromised manual dexterity and/or strength. The brace also uses an offset hinge design that reduces pressure on the knee joint and further improves comfort. Its open patella design also contributes to keeping you cool and comfortable all day long.
Bio Skin Hinged Knee Skin – Indications
Lateral Collateral Ligament (LCL) or Medial Collateral Ligament (MCL) Tears or Sprains;
Posterior Cruciate Ligament (PCL) or Anterior Cruciate Ligament (ACL) Sprains;
Meniscus Tears.
The Hinged Knee Skin is a great choice of knee brace for basketball related knee injuries or knee injuries from other sports like baseball or soccer. The lightness of the brace may even allow you to wear it while participating in sports activities. This will make it an even better accessory for pain reduction or protection of a vulnerable knee.
Please
login
to post questions