Premium J
US$87.59
Product Attributes
| | |
| --- | --- |
| Sterile/Non Sterile? | Non-Sterile |
| Colour | Black |
| Composition | Stratus |
| Latex Free? | Yes |
The Bio Skin Premium J combines function, comfort and affordability with a buttress around the patella to help prevent patella subluxation and knee dislocation. It also features dual elastic straps criss-crossing the knee to help seat the patella in its trochlear groove for less patellofemoral pain.
The Bio Skin Premium J knee brace offers a simple way to reduce patellofemoral pain. You can also get the Premium J  with a hinge if you need greater stability. The Premium J includes a buttress that surrounds your patella and helps to prevent dislocation. In addition to the buttress, the Premium J has two elastic straps that criss-cross the knee and help keep the patella firmly seated in its trochlear groove. This helps to increase the patella's surface contact area in the groove and reduces pain.
The Premium J uses Bio Skin's tri-laminate Stratus material as a key feature providing an optimal combination of ultra high compression and unsurpassed comfort and breathability. Stratus uses powerful Lycra sheets for its internal and external surfaces and a porous elastic membrane between them. The elasticity of the membrane provides a more forgiving fit but also dynamic compressiveness. For added comfort, Stratus is a  hypo allergenic material that is also completely free of latex and neoprene.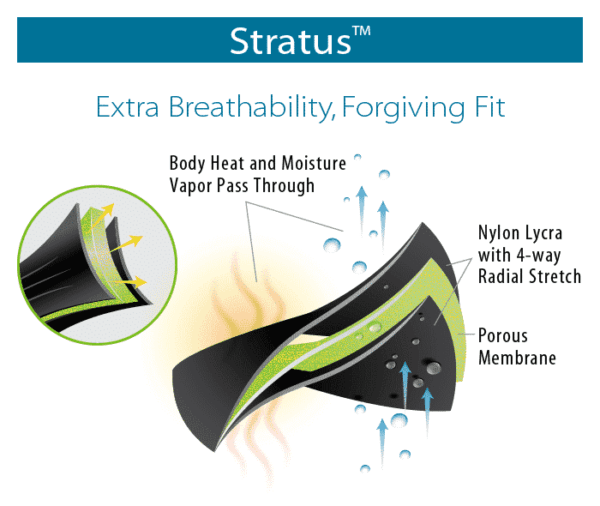 Along with most other Bio Skin supports, the Premium J comes with their innovative SkinLok™ . SkinLok helps the brace to hold more firmly to your skin as a reaction to water, sweat, lotion or other sources of moisture. With less migration during wear, the Premium J will be more effective in its role of pain reduction and healing.
In addition to the above features, the Premium J has a closed patella for extra support. This versatile knee support  also offers adjustable lateral patellar tension.
Bio Skin Premium J – Indications
Anterior Knee Pain;
Lateral Tracking Patella;
Patellar Subluxation;
Patellofemoral Knee Pain.
The net result of the above features is a knee brace with high compressivity allied to a high comfort level of comfort that supports greater patient compliance and superior therapeutic outcomes. You should consider the Premium J if you suffer from a knee injury related to sports like basketball or from gardening-related knee problems and are looking for a comfortable but effective knee support for pain reduction.
Please
login
to post questions