Q Brace Front Closure
US$110.26
Product Attributes
| | |
| --- | --- |
| Colour | Black |
| Sterile/Non Sterile? | Non-Sterile |
| Left or Right? | Both |
| Composition | Ultima 2sL |
| Latex Free? | Yes |
The Bio Skin Q Brace will help to reduce the pain of mild to moderate patellar tracking problems. It uses a  T Strap to exert gentle pressure on your patella to help prevent subluxation (dislocation) and keep the patella in its proper position.
The Bio Skin Q Brace Front Closure supports multi-directional tracking of the patella and uses an innovative "T" to help prevent dislocation.  You can also get the Q Brace Front Closure with a hinge if you need greater stability.
To prevent dislocation using the "T" strap, you have the option to attach the strap in one of several alternative positions. Each will help you to change the tractional forces exerted on the patella to move it in a different direction. In addition, the "T" straps helps exert dynamic traction;  its force of traction increases as you move your knee through its range of motion.
The  front closure design of the brace simplifies application and removal, particularly for those with limited manual dexterity.
Ultima
The Q Brace Front Closure uses Bio Skin's tri-laminate Ultima material with Lycra inner and our surfaces as well as a polyurethane film in the middle. The film allows migration of moisture vapor through the brace and allows your perspiration to evaporate. This helps your body's to perform its natural temperature regulation process. As a result, it leaves you feeling cool and comfortable under the brace. Ultima's comfort oriented design is further augmented by its hypo-allergenecity and 100% freedom from latex and neoprene.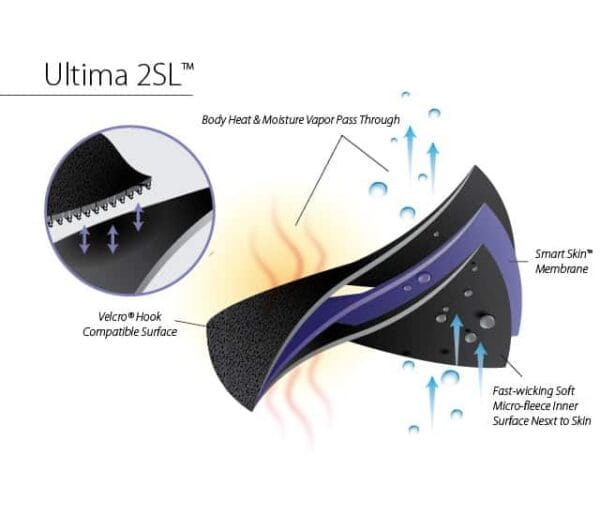 The  Q Brace Front Closure also comes with Cropper Medical's patented SkinLok™ feature. SkinLok helps your brace to adhere more firmly to your skin as a reaction to water, lotion, perspiration or other sources of moisture. The reduction in slippage helps the Q Brace to remain in its intended position even through vigorous physical activity. This in turn renders the brace more effective in its job of healing and pain reduction.
In addition to the above features, the Q Brace Front Closure is a universal left/right design and has an open patella design for enhanced comfort.
Bio Skin Q Brace Front Closure – Indications
Anterior Knee Pain;
Patellar Subluxation;
Patella Tracking problems or disorders, including lateral, medial/superior, medial, medial/inferior.
In summary, you should consider this brace if you have patellar tracking problems related to sports like Lacrosse or tracking related injuries resulting from recreational activities like gardening.
Please
login
to post questions