Q Baby
US$40.17
Product Attributes
| | |
| --- | --- |
| Colour | Black |
| Left or Right? | Both |
| Sterile/Non Sterile? | Non-Sterile |
| Composition | Ultima 2sL |
| Latex Free? | Yes |
The low profile Bio Skin Q Baby uses Bio Skin's patented Ultima 2SL™ material with micro fleeced lining for extra comfort. The Q Baby goes on your knee just below the patella and compresses your patellar tendon with its uniquely shaped silicon pad to reduce pain and speed healing.
The Bio Skin Q Baby is a low profile support that provides compression below your patella to ease the pain of jumper's knee and related problems. A key feature of the Q Baby is its individually shaped silicon pad that covers and helps apply compression to your patellar tendon. In addition to compression, this silicone pad helps to increase the surface contact area adjacent to the tendon. This in turn increases therapeutic effectiveness.
The Q Baby employs Bio Skin's Ultima 2SL™ material with its micro fleece lining for greater comfort. Ultima 2SL also has a hook & loop compatible surface that enhances compressiveness and offers versatility in the choice of anchoring and closing options. Ultima 2SL™ is comfort oriented, with a hypo allergenic and 100% latex and neoprene free design. This eliminates any risk of adverse skin reactions, even for those with histories of latex or neoprene sensitivity.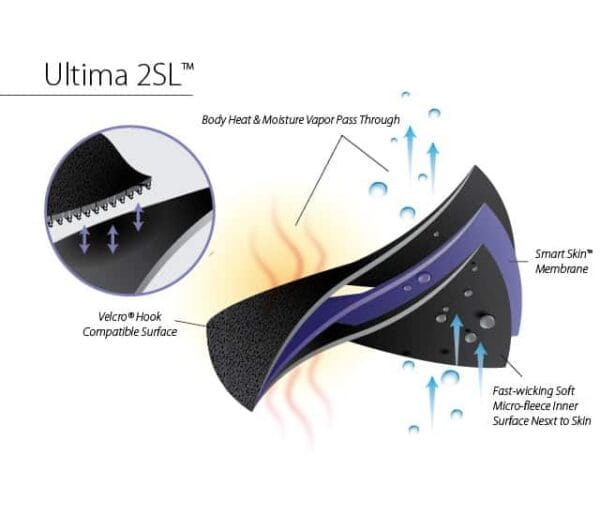 In addition to the above features, the Q Baby comes with Bio Skin's SkinLok™. With SkinLok, you will experience greater adherence of the brace to your skin when you perspire or add water or even lotion to the area under the brace. As a result, you will experience less migration of the brace, even during vigorous physical activity. This will help to improve the effectiveness of the Q Baby in reducing pain and speeding healing.
In addition to the patellar tendon, you can place the Q Baby's silicone pad over your tibial tuberosity. This offers an additional option for pain reduction.
Bio Skin Q Baby – Indications
Patellar Tendonitis;
Osgood-Schlatter Disease;
Patellofemoral Knee Pain;
Patella Tracking Disorders.
You may experience knee problems in sports like basketball or lacrosse that require extensive running or jumping activity. If so, the Q Baby should be high on your shortlist of supports that will help treat these problems.
Please
login
to post questions