Patella Stabilizer
C$117.52
Product Attributes
| | |
| --- | --- |
| Left or Right? | Both |
| Colour | Black |
| Sterile/Non Sterile? | Non-Sterile |
| Composition | Ultima |
| Latex Free? | Yes |
The Bio Skin Patella Stabilizer is an effective choice for treating patellar instability, anterior knee pain and other knee problems. Its donut shaped buttresses help to stabilize your patella and control swelling away while you remain comfortable and cool even during extended wearing periods.
The Bio Skin Patella Stabilizer supports your patella and helps to counter patellar instability. If you require additional stability, you can purchase the Stabilizer with a hinge. In addition to stability, the Patella Stabilizer provides ultra high compression that helps to control any swelling and/or pain you may be experiencing.  To do its job, it includes buttresses in the shape of donuts.  These buttresses help to stabilize and support the patella in order to keep pain and swelling to a minimum.
The Patella Stabilizer uses Bio Skin's tri-laminate Ultima material for its ultra high compression.  Despite its tri laminate construction, Ultima is amazingly thin. The secret to its compressive capabilities  lies in its Lycra inner and outer surfaces. The polyurethane film that lies between the Lycra surfaces facilitates moisture vapor migration through the material. As a result, your perspiration readiliy evaporates away from your body, jeeping you cool, dry and comfortable. For extra comfort,  Ultima is a hypo-allergenic material that is also 100% free of latex and neoprene. The Patella Stabilizer also features an open patella design that further supports keeping you cool and comfortable under it.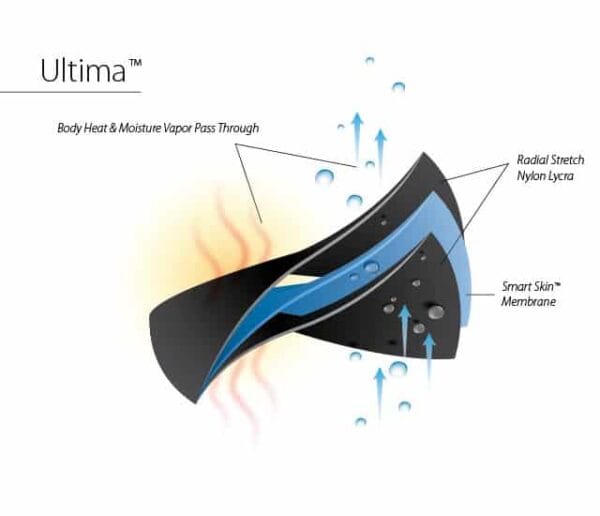 Another key feature of the Patella Stabilizer is its use of Bio Skin's innovative SkinLok™ feature. SkinLok causes the brace to hold more firmly to your skin as a reaction to moisture from sources like water, sweat or even lotion. This helps to keep the brace in its original position, which in turn increases its effectiveness in pain reduction and healing.
In summary, the Patella Stabilizer should be high on your list of candidates if you are suffering from patella instability or other knee problems related to sports like basketball or baseball.
Bio Skin Patella Stabilizer – Indications
Patellar Instability;
Knee Sprains and Strains;
Knee Joint Swelling;
Meniscus Tear;
Osteoarthritis;
Patellar Tendonitis.
Please
login
to post questions