Thumb Spica
C$57.42
Product Attributes
| | |
| --- | --- |
| Colour | Black |
| Left or Right? | Both |
| Sterile/Non Sterile? | Non-Sterile |
| Composition | Ultima 2sL |
| Latex Free? | Yes |
The Bio Skin Thumb Spica controls movement of your CMC and MP joints and protects your thumb against painful movements in order to promote healing. It does so while allowing you full use of your other fingers. No laces!
The Bio Skin Thumb Spica is an ultra low profile thumb support that will  stabilize your thumb but nevertheless allow you to continue movement of your other fingers without any restrictions. By stabilizing your thumb in this way, it will promote healing from many injuries including gamekeeper's thumb,  bursitis, de Quervain's and general thumb strains or sprains Technically, it controls movement of the carpometacarpal and metacarpophalangeal joints.
The Thumb Spica is made from Bio Skin's Ultima 2SL material. This material is 100% latex and neoprene free and is also hypo allergenic, which guarantees that you will not have to be concerned about unpleasant medical reactions when wearing this brace. You can wear it whenever convenient (even to bed) and your progress to full recovery will be all the quicker. Ultima 2SL has an innovative design that you can see in the image below. It is a tri laminate material with a velcro compatible surface on the outside, a porous membrane in the middle and a fast wicking micro fleece inner surface on the inside (next to your skin).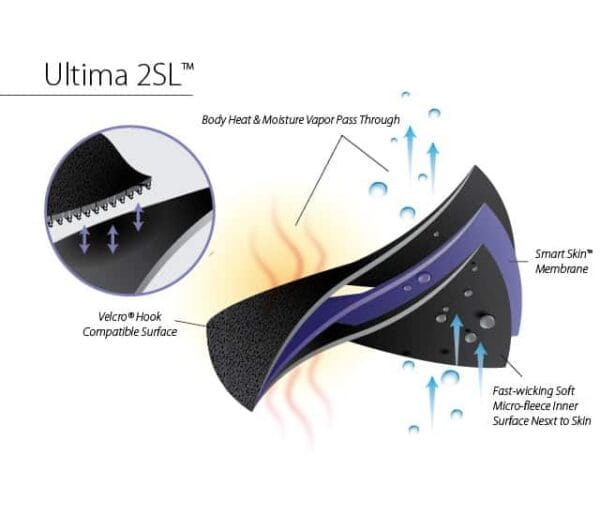 The Bio Skin Thumb Spica also boasts their SkinLok™ feature that increases adherence to the skin as a reaction to perspiration and other sources of moisture. The Thumb Spica will keep the position in which you have applied it. It will therefore continue to effectively stabilize your thumb for as long as you need.
Fits left or right hand. It is designed so that you can apply it (put it on) with one hand. Please view the video under the Instructions tab of this page for more information.
Bio Skin Thumb Spica – Conditions and Indications
De Quervains
Game Keeper's Thumb
Bursitis
Sprains and Strains
Please
login
to post questions