CrossFire ROM
C$309.58
Product Attributes
| | |
| --- | --- |
| Colour | Black |
| Sterile/Non Sterile? | Non-Sterile |
| Left or Right? | Both |
| Composition | Stratus |
| Latex Free? | Yes |
The Bio Skin CrossFire™ ROM protects the ACL, MCL and other knee ligaments by providing additional stability with its new SlimLok hinge. It also reduces unwanted knee joint bending and twisting. A compressive single layer section around the knee and a pre-tensioned area that prevenst bunching behind the knee rounds off an ultra comfortable knee brace with applications for pain reduction, healing and rehabilitation.
The Bio Skin CrossFire ROM knee brace is a knee support that protects your ligaments with a a new adjustable SlimLok™ hinge. Even if you have no ligament tears or sprains, the rossFire ROM will still protect your knee. Its has rigid, slightly flared uprights that contour to the natural shape of your leg. These supports also help to stabilize your knee in order to help you move and continue your normal ativities with confidence. The thin construction of the hinge facilitates lock out adjustments to control for flexion and extension movements while you recover from injury. Hence, the Crossfire ROM can function as a range of motion brace.
Stratus
The Crossfire ROM uses Bio Skin's unique and innovative Stratus material with its high level of breathability and versatile fit. Like the other Bio Skin materials, Stratus is tri-laminate in construction. It has inner and outer layers made from Lycra for additional compressive capability. Between these layers, there is an elastic porous membrane to facilitate moisture migration through the brace and keep you cool and dry. Stratus' comfort oriented design is augmented by its  hypo allergenicity and the complete absence of both neoprene and latex.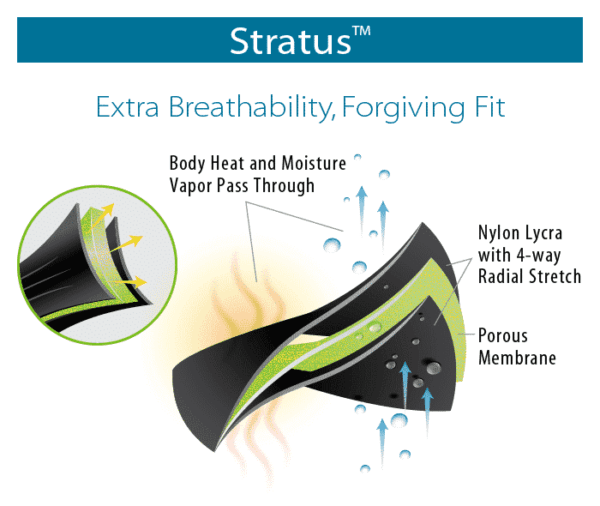 Another key feature of the CrossFire ROM knee brace is the presence of Cropper Medical's SkinLok™ feature. SkinLok increases the brace's adherence to your skin as a reaction to moisture from water, sweat or even lotion. This reduces migration of the brace away from its intended position, even during intense physical activity and improves its effectiveness in pain reduction and healing.
The CrossFire Rom also utilizes Bio Skin's ActiveSeam™ feature to reduce chafing against the skin and further improve wearing comfort. Further, its closed patella design helps to reduce swelling and its use of pre-tensioned fabric behind the knee prevents bunching in that sensitive area. The Crossfire ROM  is a universal left or right design.
Bio Skin CrossFire ROM – Conditions and Indications
Anterior Cruciate Ligament (ACL) Sprain;
Lateral Collateral Ligament (LCL) Tear or Sprain;
Medial Collateral Ligament (MCL) Tear or Sprain;
Posterior Cruciate Ligament (PCL) Sprain.
In addition to ligament tears and sprains, the CrossFire ROM can also help to reduce knee instability. If you suffer from knee ligament damage due to sports such as lacrosse or soccer, or if you are experiencing similar knee problems from gardening, you should place this support on your shortlist of possible solutions.
Instructions
Apply the CrossFire to dry skin. Lotions, perspiration and wet skin make it harder to pull on.
STEP 1
Using both hands and a firm grip, pull the brace onto your knee and center it over your patella.
STEP 2
Tighten and attach all four thigh and calf straps. Attach the straps behind the leg first.
Please
login
to post questions