Q Lok
C$305.29
Product Attributes
| | |
| --- | --- |
| Left or Right? | Both |
| Sterile/Non Sterile? | Non-Sterile |
| Colour | Black |
| Composition | Stratus |
| Latex Free? | Yes |
The Bio Skin Q Lok will help to reduce the effects of and support the rehabilitation of patellofemoral pain. Using a superior compression and strapping system, the Q Lok pushes the patella back into its correct position in the knee's trochlear notch, which decreases pain and wear on the joint.
The Bio Skin Q Lok knee brace is a knee support designed to apply a dynamic traction force on the patella.  Weight bearing studies have shown that this system can be effective in controlling the position of the patella. The Q Lok functions to decrease pain by increasing the contact area between the patella and the knee joint. The brace also comes with a strapping system that will help to reduce patellar tilt, glide and subluxation. It helps to push the patella back into its correct position in the knee's trochlear notch.
The Q Lok uses Bio Skin's uniquely designed Stratus material for additional breathability and a more comfortable fit. Stratus has a tri-laminate design and uses Lycra on its external and internal surfaces for additional compressive power. It also uses an elastic porous membrane between those surfaces to facilitate moisture transfer through the support. In addition to its tri-laminate comfort oriented design, Stratus is  completely hypo allergenic  and free of both latex and neoprene.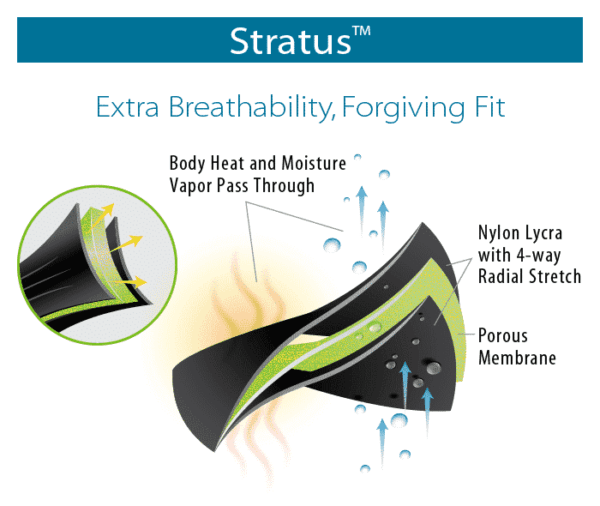 The comfort oriented design of the Q Lok is augmented by the inclusion of Bio Skin's SkinLok™. SkinLok increases adherence to your skin as a reaction to moisture sources like water, lotion or even sweat, which reduces migration of the brace. This increases the effectiveness of the brace in pain reduction and acceleration of the healing process.
The Q Lok also features lightweight hinges that securely anchor the Dynamic Patella Traction Strap. It has a contoured design that helps it to easily fit a wide variety of thigh shapes.
This is a low profile lightweight (7 oz) knee support that fits both left and right. It is easy to wear over prolonged periods but effective in healing and pain reduction. If you are looking for a support to help with knee problems related to basketball, for example, this should be high on your shortlist.
Bio Skin Q Lok – Conditions and Indications
Knee pain in the anterior region of the joint;
Patella tracking problems;
Patellar glide, subluxation and tilt;
Patellofemoral knee pain;
Tight lateral retinaculum.
In addition to the conditions listed above, the Q Lok is effective at treatment of post surgical lateral release and patellofemoral osteoarthritis.
Please
login
to post questions