Gladiator
C$309.58
Product Attributes
| | |
| --- | --- |
| Colour | Black |
| Left or Right? | Both |
| Sterile/Non Sterile? | Non-Sterile |
| Composition | Ultima |
| Latex Free? | Yes |
The Bio Skin Gladiator uses a rigid hinge for knee ligament protection and is a useful brace to use after knee reconstruction. The brace has a rigid strapping system that securely anchors it to your leg and avoids the need for more costly braces. You can also adjust the range of motion using pins to limit the degree of flexion and/or extension.
The Bio Skin Gladiator knee brace features a rigid hinge that protects knee ligaments, including during the post reconstruction phase. The Gladiator uses a rigid strapping system to remain firmly anchored to your leg. This avoids the necessity for larger, more costly braces. As illustrated below, the Gladiator uses hinges with adjustable range of motion. You can adjust the hinges using pins to set limits on the extent of knee extension and/or flexion. Consequently, like the CrossFire ROM, this is another range of motion (ROM) knee support.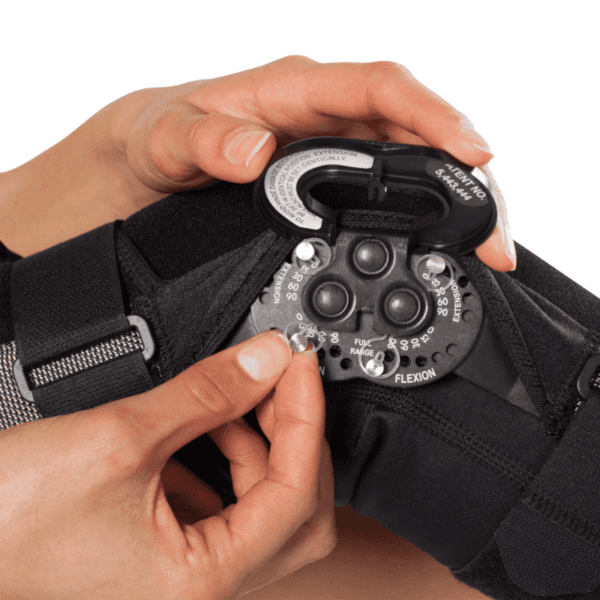 The Gladiator is constructed with Bio Skin's tri-laminate and unique Ultima material (shown below). Ultima uses Lycra inner and outer surfaces  to help the brace provide high levels of compression. In addition, it uses a polyurethane film between the Lycra surfaces to facilitate moisture vapor migration through the brace. This in turn helps perspiration evaporation and supports your body's natural temperature regulation process.
In addition to these features, Ultima is completely hypo allergenic and is 100% free of latex and neoprene.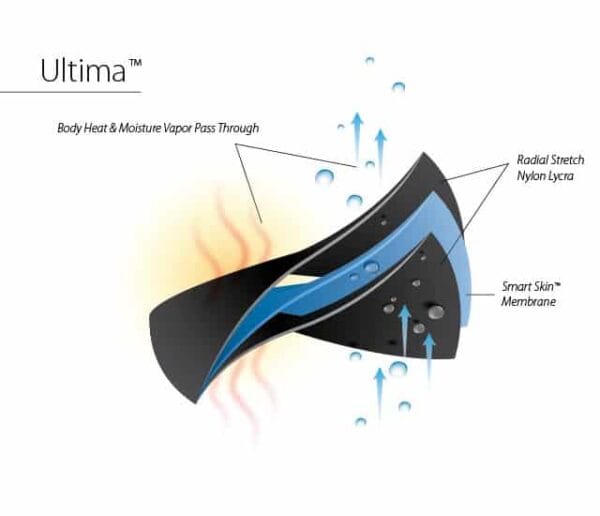 The effectiveness of the Gladiator in pain reduction and healing is further enhanced by its use of Cropper Medical's SkinLok™ feature. This increases the brace's adherence to your skin in response to moisture sources such as sweat, water or even lotion. This reduces brace migration (even during vigorous exercise) and promotes pain reduction and accelerated healing.
The Gladiator also uses a silicone gel ring that surrounds the patella and helps control swelling and reduce pain.
The brace is 15″ long and uses a pull on design for maximum compression. It is also an open patella design for superior comfort and a cool and dry wearing experience even after prolonged wear.
Bio Skin Gladiator – Conditions and Indications
Anterior Cruciate Ligament (ACL) and Posterior Cruciate Ligament (PCL) Sprains;
Lateral Collateral Ligament (LCL) and Medial Collateral Ligament (MCL) Tears or Sprains;
Knee Instability.
Please
login
to post questions