Q Lok ROM
C$359.13
Product Attributes
| | |
| --- | --- |
| Colour | Black |
| Sterile/Non Sterile? | Non-Sterile |
| Left or Right? | Both |
| Composition | Stratus |
| Latex Free? | Yes |
The Bio Skin Q Lok ROM supports rehabilitation of the patellofemoral joint while helping to prevent subluxation and further dislocation during normal activities. A specially designed dynamic patella traction strap make this brace an ideal choice for patients suffering from a high Q angle or from chronic pain from patella tilt, glide and malignment. In addition, its thin, ½ inch range-of-motion hinge allows you to progressively adjust the degree of flexion and extension of the knee.
The Bio Skin Q Lok ROM knee brace is designed to apply a dynamic traction force on the patella.  Weight bearing studies have shown that this system can be effective in controlling the position of the patella. The Q Lok ROM helps to decrease pain by increasing the contact area between the patella and the knee joint. It comes with a strapping system that will help to reduce patellar tilt, glide and subluxation. The strapping system helps to push the patella back into its correct position in the knee's trochlear notch.
In addition, the Q Lok ROM comes with an ultra thin hinge that gives the option of limiting flexion and extension of the knee. This is a useful feature for rehabilitation as it allows gradual adjustment of the knee's range of motion as healing progresses.
Stratus
The Q Lok ROM uses Bio Skin's uniquely designed Stratus material for additional breathability and a more comfortable fit. Stratus has a tri-laminate design and uses Lycra on its external and internal surfaces for additional compressive power. It also uses an elastic porous membrane between those surfaces to facilitate moisture transfer through the support. In addition to its tri-laminate comfort oriented design, Stratus is  completely hypo allergenic  and free of both latex and neoprene.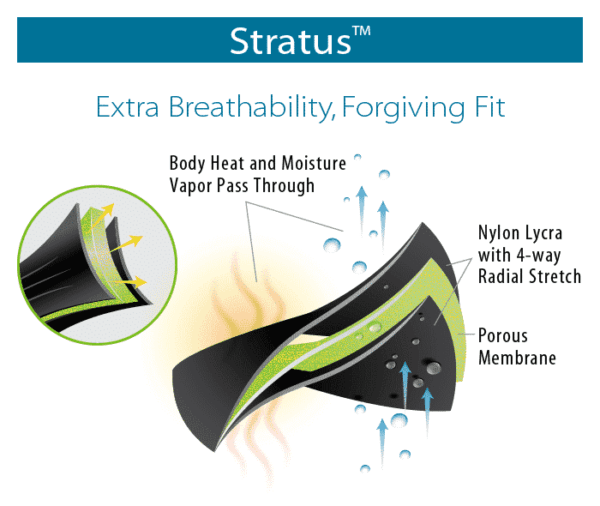 Other comfort oriented features of this knee support include its use of BioSkin's ActiveSeam™  feature to prevent chafing of the skin under the brace. It also employs pre tensioned fabric to avoid bunching over the sensitive area behind the knee.
The comfort oriented design of the Q Lok is further augmented by the inclusion of Bio Skin's SkinLok™. SkinLok increases adherence to your skin as a reaction to moisture sources like water, lotion or even sweat, which reduces migration of the brace. This increases the effectiveness of the brace in pain reduction and acceleration of the healing process.
In addition to the above comfort features, the Q Lok ROM uses a closed patella design for maximum surface contact area between the patella and the trochlear notch. It is a universal left/right design.
Bio Skin Q Lok ROM – Conditions and Indications
Anterior Knee Pain;
Maltracking Patella;
Patellar Glide, Subluxation and Tilt;
Patellofemoral Knee Pain;
Patellofemoral Osteoarthritis;
Post Surgical Lateral Release;
Tight Lateral Retinaculum;
Knee Instability.
In general, the Q Lok ROM is a good choice if you suffer from knee problems related to basketball, soccer or other sports and need rehabilitation support as you return your knee to a full range of motion.
Please
login
to post questions