OA Spiral Dynamic Unloading Knee Brace
US$381.82
Product Attributes
| | |
| --- | --- |
| Colour | Black |
| Sterile/Non Sterile? | Non-Sterile |
| Composition | Ultima 2sL |
| Latex Free? | Yes |
Relieve your tibiofemoral and patellofemoral OA pain by choosing the BioSkin OA Spiral Knee Brace. It provides relief from both forms of OA pain and is easy to fit, apply and use.
The BioSkin OA Spiral Knee Brace will provide relief from both your patellofemoral (PF) OsteoArthritis (OA) and tibiofemoral (TF)  pain.
The brace relieves tibiofemoral pain relief by using an unloading mechanism in your tibiofemoral joint. It uses a 3 point leverage system as well as an inelastic strap to correct the angular relationship between  the distal segment of your leg (i.e. the segment of the leg below your knee) and the segment above your knee. The leverage system pulls your knee out of varus (which is excessive inward angulation of your distal segment) or out of valgus ( inadequate inward angulation of the segment). The result is decreased tibiofemoral OA pain.
In addition,  for about 9 out of 10 patients suffering from tibiofemoral OA, X-Rays tend to reveal patellofemoral OA. The OA Spiral addresses this form of osteoarthitis also, and does so by using a Q Strap to reduce pain in your patellofemoral joint. The Q Strap is designed to restore correct patellar alignment and increase the contact surface area in the joint. Increased contact area reduce pain, since there will be less force per unit of contact area.
With a light and low profile design, you will easily be able to wear the BioSkin OA Spiral under your regular clothing. You will not experience any interference with your day to day activities. Instead you will be free to enjoy the pain relief and improved quality of life that it brings.
Other Key Features Of The BioSkin OA Spiral
The OA Spiral an easy on/off wrap around design. If you have limited manual dexterity, you will appreciate not having to pull the brace up over your knee.  The wrap around design also makes for a customizable fit. If your thighs or calves are larger or smaller than normal, this brace can accommodate you with no problems.
It is cut to a contoured shape to improve its ability to conform to a wide variety of leg shapes. It can do so with no bunching around the sensitive area behind your knee. This contributes significantly to wearing comfort;
The OA Spiral is supplied with a donning sleeve. This holds the brace in place while you are putting it on and leaves both your hands free to concentrate on putting it on properly;
Its magnetic buckles also contribute to ease of application and removal once you have gone through the initial fitting;
You will also experience the benefits of BioSkin's breathable, light, hypoallergenic and neoprene free materials keeping your skin cool, dry and comfortable;
The OA Spiral will not only realign your knee joint to remove OA pain, but  it will provide medical grade compression. This will further promote the healing process.
The OA Spiral features the SkinLok™ feature which increases adhesion to your skin as a response to perspiration or other moisture. This helps the brace remain in its intended position for improved therapeutic results.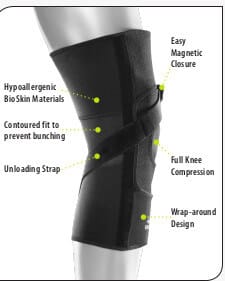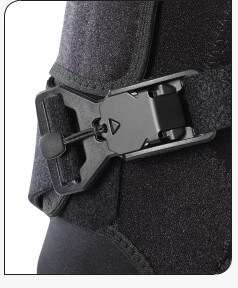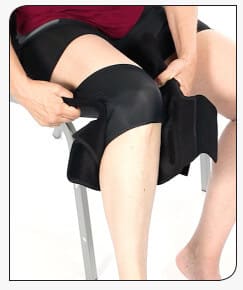 Please
login
to post questions