Thigh Skin with Cinch Strap
US$58.45
Product Attributes
| | |
| --- | --- |
| Colour | Black |
| Left or Right? | Both |
| Sterile/Non Sterile? | Non-Sterile |
| Composition | Ultima |
| Latex Free? | Yes |
The Bio Skin Thigh Skin with Cinch Strap compresses your hamstring and quadricep muscles to ease the pain from a variety of injuries.
The Bio Skin Thigh Skinwith Cinch Strap  uses its high level compressive properties to ease the pain you are feeling from hurt quadriceps and hamstrings. The included  cinch strap helps to increase the degree of compression on the site of your injury.
The Thigh Skin uses Cropper Medical's tri-laminate Ultima material.  Ultima is incredibly thin and highly compressive due to its Lycra inner and outer layers. Sandwiched between these layers is a polyurethane film to allow transferral of moisture vapor away from your body. The evaporation of  perspiration after the moisture passes through the outer layer helps your body to perform its built in temperature regulation process. In addition to the cool and dry feeling from perspiration evaporation, Ultima's comfort  is enhanced by the absence of neoprene and latex and by its  hypoallergenic construction.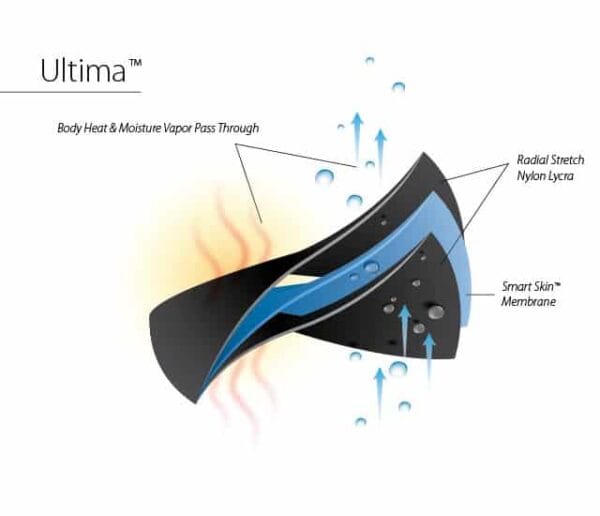 The Bio Skin Thigh Skin also comes with Cropper Medical's patented SkinLok™ feature. This improves adherence to your skin as a reaction to moisture sources like water, perspiration and lotion. The result is less Thigh Skin slippage during periods of vigorous physical activity.
Bio Skin Thigh Skin with Cinch Strap – Indications
Less risk of injury;
Quad Contusion;
Thigh Strain.
Sizes available are X-Small to XX-Large. Please consult the sizing tab on this page for help in choosing the correct size.
In summary, the features above make the Thigh Skin an excellent choice to reduce the injury risk from intense sprinting. For example, you can use it to reduce thigh muscle vibration during basketball or soccer. This will lower the risk of hamstring or quad injuries.
Please
login
to post questions