Tennis Elbow Skin
C$57.05
Product Attributes
| | |
| --- | --- |
| Colour | Black |
| Sterile/Non Sterile? | Non-Sterile |
| Left or Right? | Both |
| Composition | Ultima |
| Latex Free? | Yes |
Lateral and medial epicondylitis treatment
The Bio Skin Tennis Elbow Skin provides 100% elbow coverage and comes with a silicon pad and an elastic strap that you can position to provide extra compression and pain relief from lateral and medial epicondylitis.
The Bio Skin Tennis Elbow Skin provides full elbow injury coverage and includes a silicone pad that you can position over the site of your pain. The Skin also has an elastic strap that provides targeted compression of your upper arm and helps to treat tricep and bicep strains. The combination of full coverage, elastic strap  and silicone pad makes it easy to orient the Tennis Elbow Skin for optimal pain relief. This is further enhanced by the Tennis Elbow Skin's ability to contour readily to your forearm's individual shape. This elbow support is applicable for the treatment of both golfers' and tennis elbow.
Importantly, the Tennis Elbow Skin uses Cropper Medical's tri-laminate Ultima material, with Lycra external layers and an internal polyurethane film. The film supports moisture vapor migration away from your body. Allowing perspiration evaporation keeps your body comfortable and cool and supports your natural temperature regulation system. In addition, Ultima is hypo allergenic and completely free of latex and neoprene. This eliminates the risk of adverse skin reactions and enhances user comfort.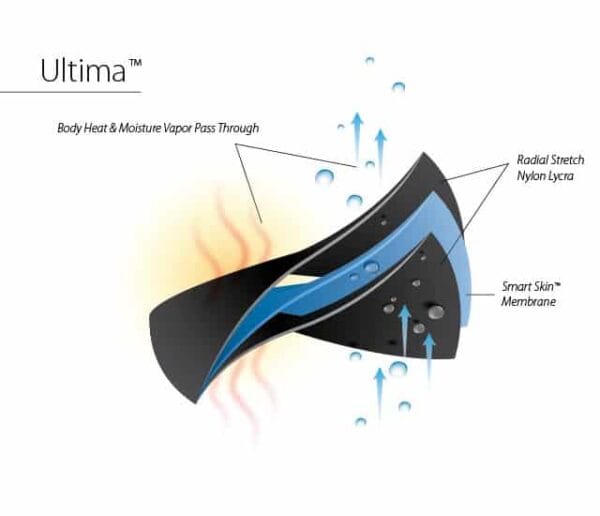 In addition to the features above, the Tennis Elbow Skin brace uses BioSkin's  SkinLok™ feature, which increases skin adherence as a reaction to perspiration, lotion or water.  This keeps the Skin in the correct area throughout intense physical activity.
In summary, the Skin is a good choice to treat moderate golfers' or tennis elbow pain. This is especially the case when this is accompanied by general pain in the elbow area from a different injury. Just position the silicone pad over the painful tennis or golfers' elbow tendons. Then, use the Skin's general compression to treat the non specific forearm or elbow pain you may be experiencing.
Bio Skin Tennis Elbow Skin – Indications
Medial epicondylitis (Golfer`s Elbow);
Lateral epicondylitis (Tennis Elbow);
Bicep and tricep strains.
If you play sports like baseball or love activities like gardening, the Tennis Elbow Skin can provide valuable pain relief.
Please
login
to post questions