A key feature of the Bio Skin Visco Knee Skin with Thigh & Calf Straps is its use of a ring made from silicone that helps control swelling and relieve edema via passive massage. You can also buy the Visco Knee Skin with a hinge if you need better stability.
Another important feature of the Visco Knee Skin is its use of Bio Skin's  Ultima material. Ultima comprises Lycra interior and exterior surfaces  that provide high level compression. In addition, its central polyurethane film facilitates moisture transfer through the Visco Knee Skin. This helps you to remain cool and comfortable while wearing the support as your perspiration can evaporate away from your body instead of remaining trapped next to your skin. Ultima's hypo allergenic and 100% latex and neoprene free construction also helps to promote user comfort and enhances compliance..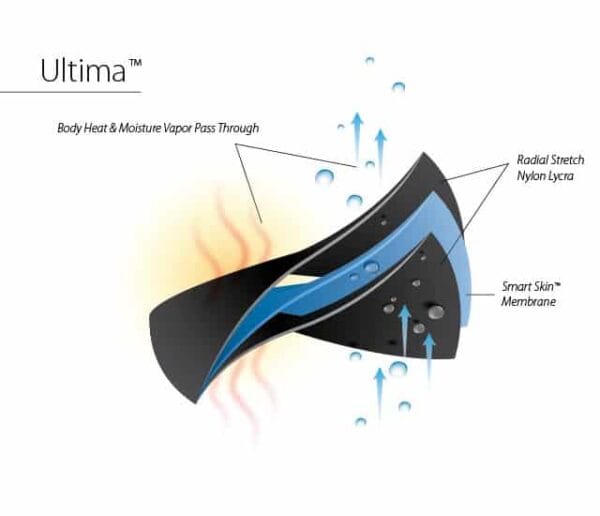 Another key feature of the Visco Knee Skin knee brace is its use of Cropper Medical's innovative SkinLok™ feature. SkinLok helps to secure the brace firmly in its correct position due to increased skin adherence as a result of moisture from water, sweat or even lotion. This in turn improves the Visco Knee Skin's effectiveness in healing and pain reduction. The Skin's strapping system supports the SkinLok feature by helping to reduce migration while it is in use.
The Visco Knee Skin also uses finger loops to facilitate application (putting on) of the brace.
The following video provides more information on the Bio Skin Visco Knee Skin with Thigh & Calf Straps:
The Visco Knee Skin is an ideal support for improved healing after undergoing knee arthroscopy. You can also use it for pain reduction and faster healing following a basketball related knee injury or a knee injury due to gardening activity.
Bio Skin Visco Knee Skin with Thigh & Calf Straps – Indications
Knee Sprains and Strains;
Swollen Knee Joint;
Torn Meniscus;
Osteoarthritis;
Patellar Tendonitis.